Finance Industry Jobs Report: May 2015
April brought on 223,000 new jobs and the unemployment rate held steady at 5.4 percent, the U.S. Bureau of Labor Statistics reported.
Job openings in the professional and business services industries continue to climb with an additional 62,000 added in April. Over the past 3 months, job gains averaged 35,000 per month. Employment continued to trend up in computer systems design and related services (+9,000), in business support services (+7,000), and in management and technical consulting services (+6,000).
Employment gains in the financial activates sector remained flat, while employment in the temporary help services increased. Job growth for accountants and auditors is expected to increase 13% by 2022.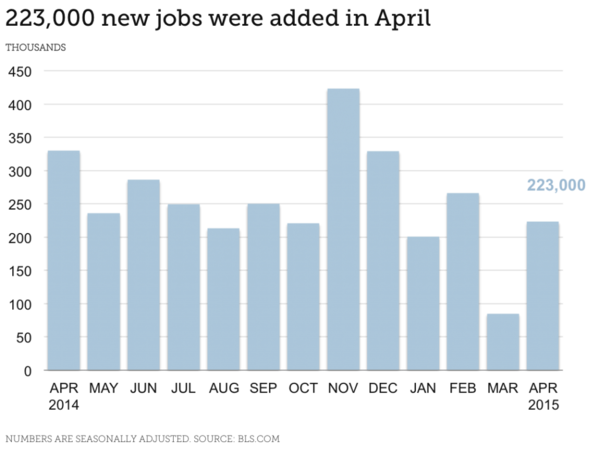 The past year brought a net gain of 3 million jobs
It's important to note that separations and hires occur every month throughout the business cycle. When the number of hires exceeds the number of separations, employment rises, even if the hires level is steady or declining. Conversely, when the number of hires is less than the number of separations, employment declines, even if the hires level is steady or rising.
Keeping the above in mind, over the past year, hires totaled 59.7 million and separations totaled 56.7 million, yielding a net employment gain of 3.0 million. While monthly job gains may wax and wan, the past year has seen an overall increase in job growth and opportunity, which is good news for the U.S. economy and its job seekers.
The unemployed are finding work in a shorter amount of time.
The number of persons unemployed for less than 5 weeks increased by 241,000 to 2.7 million in April. While those unemployed for 5+ weeks has declined. This is good news as it indicates the economy is improving and those who are looking for work are finding jobs more quickly. Over the past year, the number of long-term unemployed has decreased by 888,000.
Despite signs that companies want to add staff (there were 5.0 million job openings on the last business day of March), the number of discouraged workers is little different from the year prior. These workers are not currently looking for work because they believe there are no jobs available for them.
Is a talent shortage on the horizon?
As the unemployed find work more quickly,  the number of quits is also increasing.  Quits are generally voluntary separations initiated by the employee. Therefore, the quits rate can serve as a measure of employees' willingness or ability to leave their jobs. The quits rate for the overall economy was recorded last in March at 2 percent, with 2.8 million quits reported. The quits rate for professional and business services was higher at 2.4 percent, with a 5.1 percent hires level (compared to overall hires level of 3.4 percent).
All of this indicates that the job market is turning in the favor of employees and a talent shortage may be on the rise. At Parker + Lynch, we're always digging into the most important topics facing the industry and professionals like you.