160,000 Jobs Added to the Economy in April
The Latest Numbers From the BLS Employment Situation Report
An employment summary based on the U.S. Bureau of Labor Statistics' (BLS) April 2016 monthly jobs report.
Economists predicted another month of 200k+ job additions ahead of this morning's jobs report but the latest data told a different story. The Bureau of Labor Statistics announced 160,000 jobs were added in April and while this was below expectations, we still boast 65 straight months of positive job growth. Employment growth has averaged 232,000 per month.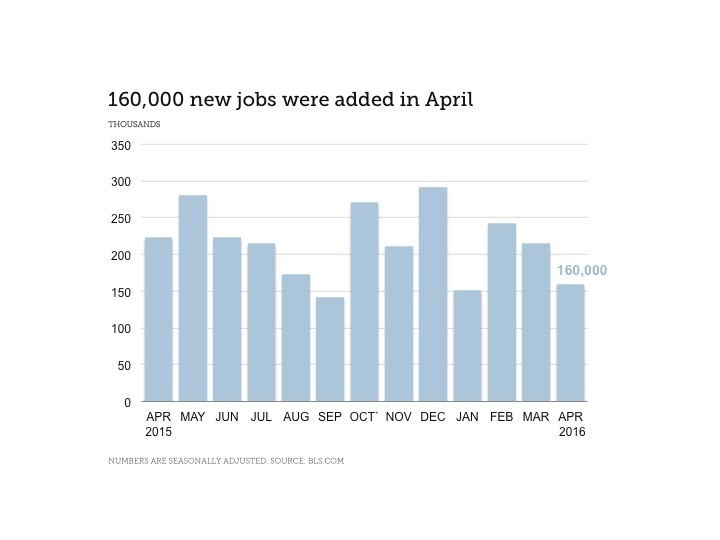 Economists, and of course the Federal Reserve, were also keeping a close eye on this month's wage growth. Wage growth has been one of the last and slowest pieces to labor-market recovery and a rise in wages would give the Fed  more confidence in their 2% inflation target. It also suggests that consumer spending will continue to drive economic growth.
Let's break down the numbers from this month's report:
 Wages:

$25.53 April
$25.43 March

+ 8 cents month-over-month

+2.5% year-over-year

Unemployment:

5.0% April
5.0% March

+0% month-over-month
-0.4% year-over-year
In April, hourly wages rose $0.8 to$25.53 per hour, bringing the year-over-year wage percentage increase to 2.5%. The unemployment rate now sits at 5.0%.
In-Depth Look: Our Industries
The professional and business services sector added 9,000 new jobs month-over month. While this number is significantly less than previous months, industry experts say this will not be an ongoing trend. They point to 2015's performance that saw 2.65 million new jobs added, the second best year in terms of employment gains since 1999.
Here's how our industries' employment is shaping up:
Financial activities:

Month-over-month change: +15,000
 Year-over-year change: +145,000
Finance and Insurance:

Month-over-month change: +15,100
Year-over-year change: +112,700
Accounting and bookkeeping services:

Month-over-month change: +500 jobs
Year-over-year change: +40,400
Legal Services

Month-over-month change: -1,500
+3,300 jobs added since April of last year
Previous Months:

March: +1,200
February: -1,500
January: -1,100
Right now the unemployment rate for financial services sits at 2.7%. This is a substantial drop from the month prior (-0.3) and the legal services industry is at 2.6%, up slightly from last month. Both rates are well below the national average and while that's great news for legal and accounting and finance job seekers, for employers it means hiring top talent is going to be tougher than ever. To get ahead of your competitors and add exceptional professionals to your workforce, make sure you are offering a competitive salary.  Request a free copy of our 2016 Salary Guide – a comprehensive resource for salaries across the industry – to get the latest salary insights that will help you hire the industries top professionals.