242,000 Jobs Added to the Economy in February
The Latest Numbers From the BLS Employment Situation Report
The Bureau of Labor Statistics has released its monthly employment report and the numbers could calm some fears of a second recession and imply the U.S. economy remains on solid footing. The report from the Bureau of Labor Statistics is the final reading on the labor market before the Federal Reserve's much-anticipated March meeting and contain three major indicators that could impact their decision for an interest rate hike.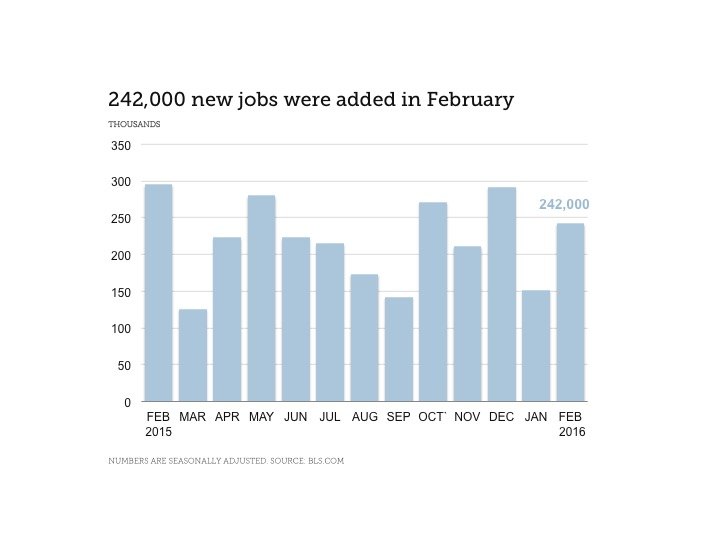 February saw the addition of 242,000 jobs, a much better number compared to January's 172,000 (revised from 151,000)  job additions. The unemployment rate remained unchanged this month at 4.9% but still sits at the lowest level since 2008. Our last major interest rate hike indicator, and arguably the most import factor that could influence the Fed's decision, is wages. While average hourly earnings declined month-over-month (down 3 cents to $23.35), year-over-year wages saw a 2.2% increase.
In Your Industry
So how do the national numbers compare to our industries' employment outlook? Let's take an in-depth look:
• Financial activities
o MOM change: +6,000
o YOY change: +142,000
• Finance and Insurance:
o MOM change: +8,300
o YOY change: +107,300
• Accounting and bookkeeping services
o MOM change: +100 jobs
o YOY change: +46,500
• Legal Services
o MOM change: -1,500
o January: -1,100
o December: +1,200
o November: +600
Right now the unemployment rate for financial services sits at 3.6%. While this rate is an increase month-over-month, it does sit well below the national average.
This is great news for finance and legal professionals currently on the market – there are more jobs available to you than to those in many other industries. Employers, be sure to showcase your company culture, tout any unique employee benefits, and offer a competitive salary.
Request a free copy of our 2016 Salary Guide – a comprehensive resource for salaries across the industry.