Finance Industry Jobs Report: August 2015
In July, the U.S. economy created 215,000 new jobs, according to an August 7 report by the Bureau of Labor Statistics (BLS). Total nonfarm payroll employment increased by 215,000—though that figure is down slightly from Wall Street's expectations of 225,000 new jobs. The unemployment rate was unchanged at 5.3 percent, in line with Wall Street's projections.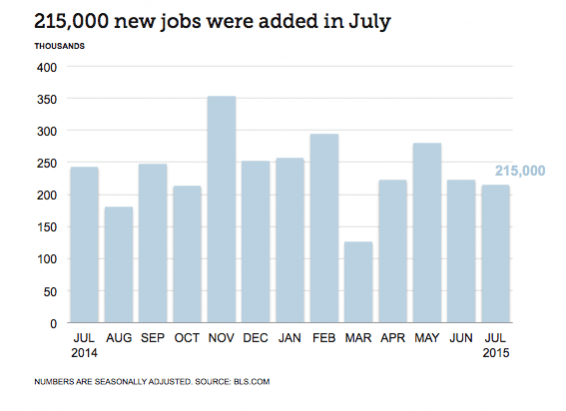 According to BLS, last month's job gains occurred in retail trade, health care, professional and technical services, and financial activities. The government also revised jobs data for May and June to portray a more optimistic economic landscape–with 14,000 more jobs created than previously reported.
Increase in professional jobs for 2015
Over the past 12 months, professional and technical services has added 301,000 jobs. And in July, professional and technical services added 27,000 new jobs. Here's the breakdown of new jobs by sector:
Computer systems design and related services: +9,000
Architectural and engineering services: +6,000
Management of companies and enterprises: +14,000
While the labor participation rate remains at historic lows (62.6 percent in July), the U.S. economy has added jobs over the past three months. "Over the past 3 months, job gains have averaged 235,000 per month," according to BLS. But wage stagnation remains a key concern for many economists and households.
Just as importantly, July's job gains could result in a rate hike by the Federal Reserve in September. "If you thought that the Fed was going to go in September, this report would suit that thematic nicely," said Tom Porcelli, chief U.S. economist at RBC Capital Markets in New York. "I don't think anything has changed in that regard. I think it's another step toward the eventual lift-off."