Finance Industry Jobs Report: October 2014
Jobs report summary for the Finance and Accounting industry.
Based on the BLS report with September 2014 data.
The U.S. Bureau of Labor Statistics recently released that 248,000 new jobs were added in September, outperforming economist's prediction of 215,000 for the month. The unemployment rate dropped from a 6.1% to a 5.9%, the first time it has been below 6% in the last six years. Along with the newly added reported numbers, August's reported numbers have increased from 142,000 to 180,000 jobs, along with a slight increase from July, going from 212,000 to 243,000.
While this month's reported numbers are a complete turnaround from August's discouraging numbers, the labor participation rate is still proving to be the thorn in the side of the U.S. workforce. The participation rate declined from a 62.8% to a 62.7%, which may reflect why the overall average wages was stagnant for this month.
On a more positive note, the newly added jobs were in three major sectors of growth: Professional and Business Services, Construction, and Healthcare, which tend to create more full time and long term opportunities, that will help promote wage growth.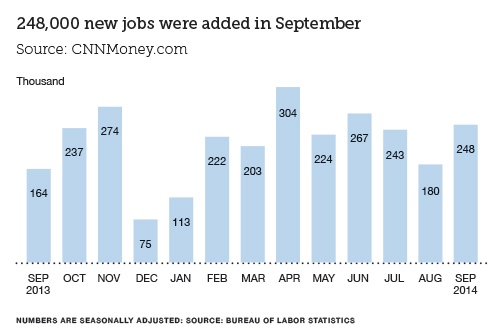 Financial Activities Sector Continues Consistent Growth
In September, the Professional and Business Services industry added 81,000 jobs, proving the sector is the pinnacle for growth for the 2014 workforce economy. September's reported numbers dominated the average monthly gain of 34,000 jobs in the previous 12 months.
The Financial activities sector added another 12,000 jobs in September; totaling 43,000 jobs in the past four months. While hiring for the Financial Activities sector initially started slow, within the past four months it has seen the largest gain for the year.
Financial Activities Wages Increase, Overall U.S. Workforce Average Wages Stagnant
For the month of September, wages for the Financial Activities sector increased $0.10 from August.  While this is a positive note within the Financial Activities sector, the reported wages could vastly improve based on the fact that the average wage of the U.S. workforce only improved by $0.02. This can correlate directly to the labor participation rate. Once we have a workforce that is consistently adding jobs month over month, with a declining unemployment rate and increasing labor participation rate, we will then see significant wage growth.
Up to speed?
At Parker + Lynch, we're always digging into the most important topics facing the industry and professionals like you.