Finance Industry Jobs Report: October 2015
An employment summary based on the U.S. Bureau of Labor Statistics' (BLS) October 2015 monthly jobs report.
The U.S. economy created a disappointing 142,000 jobs for the month of September, according to BLS's report released on October 2nd. Economists surveyed by The Wall Street Journal had expected a 200,000 increase in new jobs.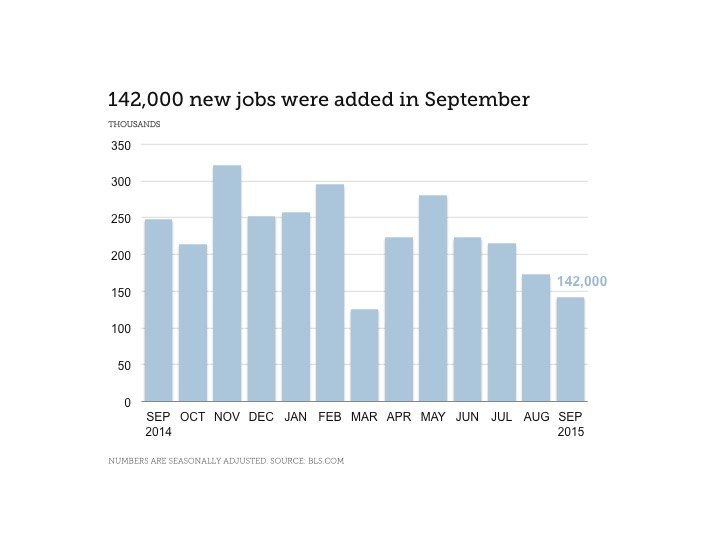 BLS also revised August's employment summary to 136,000 jobs, down from 173,000. Wall Street had expected 220,000 new jobs for that month. Friday's lackluster report makes it highly unlikely that the Federal Reserve will raise interest rates later this year. Management jobs increased by 2,400 nationwide between August and September 2015, while management and technical consulting services added 900 jobs over the same period.
What this means for executive job candidates
While the BLS's most recent employment report portends challenges for job seekers, candidates with proven track records and updated skills continue to see high demand from employers.
And executive job seekers are at a key crossroads rarely seen before. On the positive side, the bulk of new jobs the U.S. economy has created in 2015 belong in the services sector, which includes business, professional, financial and health services. Employers are placing a premium on relevant experience and talent as companies try to adjust to a whirwind of changes, such as disruptive new practices taking place within their industry, along with the profound challenges and opportunities of doing business abroad in places like China, Brazil and other lucrative markets.
In terms of landing a prized career opportunity, having relevant skills is more essential than broad economic measures. Managers with legacy skills are increasingly finding themselves displaced as companies seek to control their labor- and health-related cost structures. And studies show that more executives are feeling challenged by the evolving roles of their job, as well as, by hard-charging competition based overseas.
Traditional fields such as marketing, sales and general management are being transformed by a plethora of innovations that companies believe they should adopt to remain competitive. And the reality is, many higher-up managers are expected to create and successfully perform Google SEO, digital marketing, analytics, omnichannel integration and mobile strategies—just to name a few—with measurable ROI that justifies keeping their well-paying jobs.
What this means for executive headhunters
The talent shortage means recruiters can still find opportunities to place relevant executive candidates. Social media, such as LinkedIn and Twitter, give recruiters more tools to network with corporate veterans who may be a fit for key vacancies. But such hires need to justify the typically higher costs of bringing in seasoned experience. Disruptive apps, technologies and emerging business models are creating little tolerance from corporate for outmoded practices.
Baby Boomers in the U.S. are retiring at an estimated rate of 10,000 per day, and Millennials and Generation Z are taking their place at offices, retailers, factories and warehouses all over the country. As younger employees are promoted to management responsibilities, HR will need to constantly create effective retention programs—because studies show that younger workers like to job-hop within one to four years of being employed at the same company.
To see which direction the salary winds are blowing, download our free 2016 Salary Guide, which can help you make competitive offers to top talent.