Finance Industry Jobs Report: September 2014
Jobs report summary for the Finance and Accounting industry.
Based on the BLS report with August 2014 data.
The U.S. Bureau of Labor Statistics recently released that 142,000 new jobs were added in August, a significant drop in economist's prediction of 225,000 for the month. The unemployment rate dropped slightly, going from a 6.2% to a 6.1%. Over the past six months, +200,000 jobs have been added each month. What made such a difference in August to decline so abruptly?
Most likely, the August numbers will be revised by the end of September to reflect a more positive trend of hiring, with teachers returning to school and retailers beginning to ramp up for the holidays. While the 142,000 jobs added in August initially seem discouraging, wages grew 2.1% year-over-year, and 0.2% month-over-month, which does not indicate a slowdown of the economy.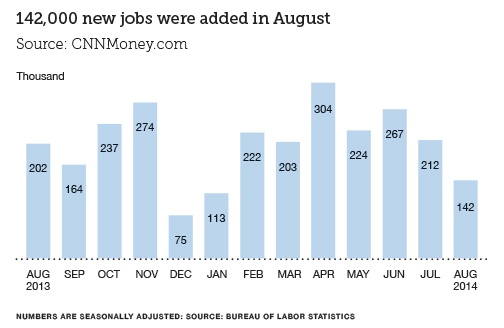 PROFESSIONAL AND BUSINESS SERVICES REMAIN CONSISTENT
With 47,000 newly added jobs in August, the Professional and Business Services industry consistent growth within the sector is pivotal for the 2014 workforce economy. Over 639,000 jobs this year have been added solely from the Professional and Business Services sector.
The Financial activities sector added another 7,000 jobs in August; totaling 31,000 jobs in the past three months. This has been the largest streak of added jobs to Financial Activities sector within the year, and should continue to increase along with a predicted market growth.
SIGNIFICANT INCREASE IN FINANCIAL WAGES
For the month of August, wages for the Financial Activities sector increased $0.13 from July.  Overall wages grew 2.1% year-over-year, and 0.2% month-over-month for the U.S. workforce, which does not indicate a decrease in monthly-added jobs or a slower economy.
Will we see more of a positive increase at the end of September? In June, it was indicated that the workforce was fully recovered from massive 2008 layoffs. With a recovered economy, should the workforce be worried with this month's discouraging numbers?
Up to speed?
At Parker + Lynch, we're always digging into the most important topics facing the industry and professionals like you.