Finance Jobs Report: December 2014
In November the total number of U.S. jobs increased by 321,000, and the unemployment rate remains flat at 5.8 percent, according to the U.S. Bureau of Labor Statistics.
In November, the unemployment rate remains at 5.8 percent, and the number of unemployed was relatively unchanged at 9.1 million persons. Over the course of this year, the unemployment rate and the total number of unemployed persons were down by 1.2 percent and 1.7 million, respectively.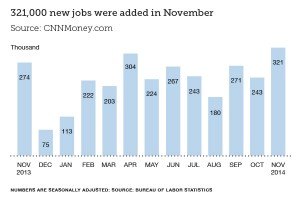 The long-term unemployed (those jobless for 27 weeks or more) number was essentially steady at 2.8 million people in November. These individuals account for 30.7 percent of the totally number of unemployed. The number of long-term unemployed declined by 1.2 million over the last 12 months.
The civilian labor force participation rate remained at 62.8 percent in November and essentially has not changed since April. The employment-population ratio, at 59.2 percent, was unchanged in November but is up by 0.6 percentage point over the year.
In November, employment in professional and business services saw an increase of 86,000.
Over the past 12 months, job increases in employment and professional services were an average of 57,000/month, which is considerable industry growth. In November in the industry, accounting and bookkeeping services added 16,000 jobs. Employment numbers continued to move up in temporary help services with 23,000 added jobs, and 20,000 jobs added in financial activities, with 50% of the increase in insurance carriers and related activities. In the past year, insurance contributed 70,000 jobs to the overall 114,000 increase in financial activities employment.
In November, the upward trend in employment continued in temporary help services, and 15,000 jobs were added to the sector. Over the course of 2014, professional and business services employment grew by 55,000 per month on average. Both numbers show noticeable growth in employment.
The average workweek for employees on private non-farm payrolls increased in November by 0.1 hours to 34.6 hours. For production and nonsupervisory employees on private non-farm payrolls, the average workweek remained constant at 33.8 hours. With revisions to employment gains in September and October, the combined increases were actually 44,000 more than previously reported. The increase in total nonfarm payroll employment for the month of September was revised from an increased 256,000 to 271,000, and the numbers for October were revised from an increase of 214,000 to 243,000.
Hourly earnings on average for employees on private nonfarm payrolls was $24.66 in November, a 9 cents increase. Over the course of the year, average hourly earnings rose by 2.1 percent. Average hourly earnings of private-sector production and nonsupervisory employees in November rose to $20.74, an increase of 4 cents. To learn more about expectations for compensation in 2015, request your complimentary copy of the Parker + Lynch Salary Guide. 
We keep our clients on the forefront of hiring
We provide monthly employment figures and hiring trends to employers nationwide, enabling them to remain efficient and productive all month. Learn more about how we can help your organization meet their hiring goals.