Finance Jobs Report: June 2014
Jobs report summary for the Finance and Accounting industry. Based on the BLS report with May 2014 data.
Just recently released, The Bureau of Labor Statistics reports 217,000 jobs were added in May, which reveals the US job market has finally recovered from the 2008 crash. With the recovery now under our belts, can we see positive gains moving forward?
While May's reported job numbers are roughly 60,000 less than April, the newly added  jobs finally can put an exclamation point on the massive lay offs of 2008. While this is positive news for the job market recovery, government officials aren't ready to celebrate quite yet. Then unemployment rate continues to sit 6.3%, after it's decline from 6.7% in February.  The initial decrease of the stagnant unemployment rate occurred in April, when the labor participation rate dropped to 62.8%, down from 63.2% in March.
While the newly added jobs and recovery from 2008 are positive gains, the unemployment rate still proves there is much work to be done.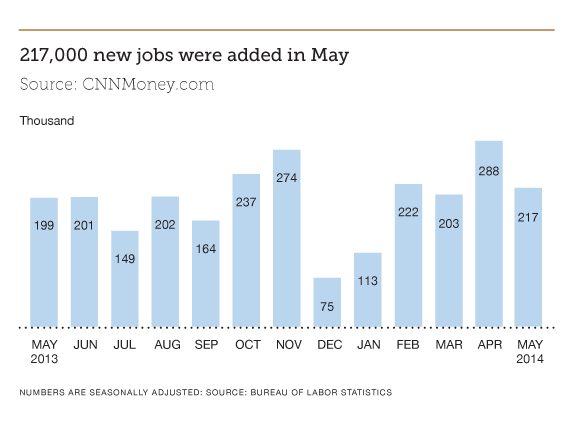 Professional and Business Services Continue to Flourish
With 55,000 added jobs in May, the Professional and Business Services industry was one of the largest sectors for growth once again. While down 15,000 jobs from April, the previous two months have seen one of the largest increases in the last four years.
The Financial activities sector added 3,000 jobs in May, a slight decline of 3,000 jobs from April. The last two months of the financial activities sector have added roughly 9,000 jobs. With the jobs market now fully recovered from the 2008 crash, can we expect to see an influx of financial jobs if the economy begins to pick back up?
Financial Activities Wages
Wages increased by 5 cents from April to May within the Financial Activities sector, which is a bit of surprise seeing a decline of added jobs. Are employers compensating more for hiring less?  Or is the influence of potentially increasing the minimum wage affecting salary requirements?
While analysts predict the next few months of added jobs to be over the 200,000 mark per month, will our economy start to increase based on the fact that U.S. job force is now out of recovery?
Up to speed?
At Parker + Lynch, we're always digging into the most important topics facing the industry and professionals like you.