38,000 Jobs Added to the Economy in May
The Latest From the BLS Employment Report: 38,000 Jobs Added in May
All eyes were on this morning's jobs report as Federal Reserve officials are expected to discuss raising the key U.S. interest rate in June. The Bureau of Labor Statistics' jobs report provides economic data that the Fed uses as key indicators in deciding an interest rate hike, which could happen at their meeting this month.
Economists predictions
Economists predicted 160,000+ job additions ahead of this morning's jobs report and the report fell very short. Only 38,000 jobs were added this month which is well below the recent 200,000-plus average. Experts point to the now settled Verizon strike that left about 40,000 union workers unemployed as a possible factor. Generally, the economy is considered healthy if 200,000 jobs are added each month.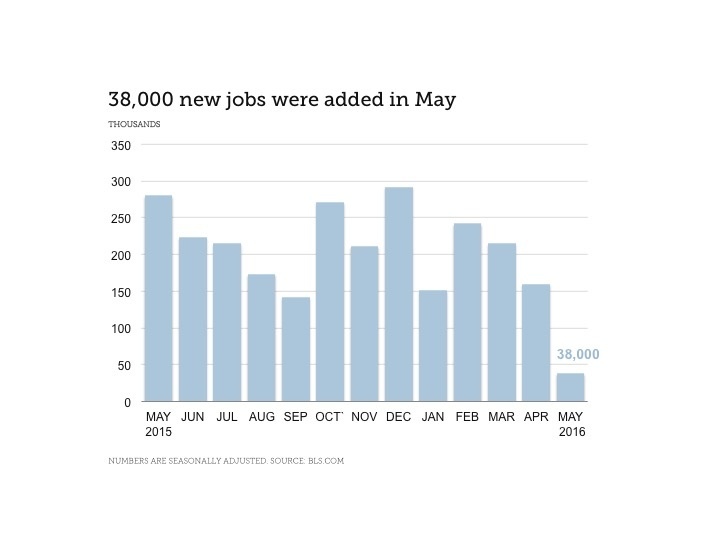 Here is a look at the national numbers from this month's report:
 Wages:

$25.59 May

$25.54 April

+ 5 cents month-over-month

+2.5% year-over-year
Unemployment:

4.7% May

5.0% 

April

-0.3% month-over-month

-0.8% year-over-year
In May, hourly wages rose $0.5 to $25.59 per hour, bringing the year-over-year wage percentage increase to 2.5%. The unemployment rate now sits at 4.7%, the lowest rate since November of 2007. What does this mean for the industries we support? Our in-depth analysis is below:
In-Depth Look: Our Industries
The professional and business services sector added 9,000 new jobs month-over month. While this number is significantly less than previous months, industry experts say this will not be an ongoing trend. 
Here's how our industries' employment is shaping up:
Financial activities:

Month-over-month change: +8,000

 Year-over-year change: +157,000
Finance and Insurance:

Month-over-month change: +2,900

Year-over-year change: +713,300
Accounting and bookkeeping services:

Month-over-month change: +5,400 jobs

Year-over-year change: +48,600
Legal Services

Month-over-month change: +100

Year-over-year change: +3,800

Previous Months:

April: -1,500
March: +1,200

February: -1,500
The unemployment rate for financial services decreased significantly last month and now sits at 1.8% (-0.9%) and for the legal industry unemployment rose slightly from the month prior and now sits at 2.8%. This means, for businesses looking to bring on legal and finance professionals, the market remains extremely competitive. You'll want to establish yourself as a premier employer to beat out your competitors and hire the right legal and finance pros. Or in the case of replacing some retiring workers, you'll need to get a succession plan in place.