255,000 Jobs Added to the Economy in July
The Latest Numbers From the BLS Employment Situation Report
An employment summary based on the U.S. Bureau of Labor Statistics' (BLS) July 2016 monthly jobs report.
After picking up last month, private-sector employment showed a second consecutive month of job gains — reinforcing again that the weak May nonfarm-payroll report was just a temporary dip.
The Bureau of Labor Statistics' jobs report showed that 255,000 private-sector jobs were added in July, far exceeding economists' expectations for a gain of 179,000 jobs.
Economists' predictions
Economists predicted 179,000 job additions ahead of this morning's jobs report and the report exceeded expectations. 255,000 jobs were added this month which is below last month's booming 287,000 jobs.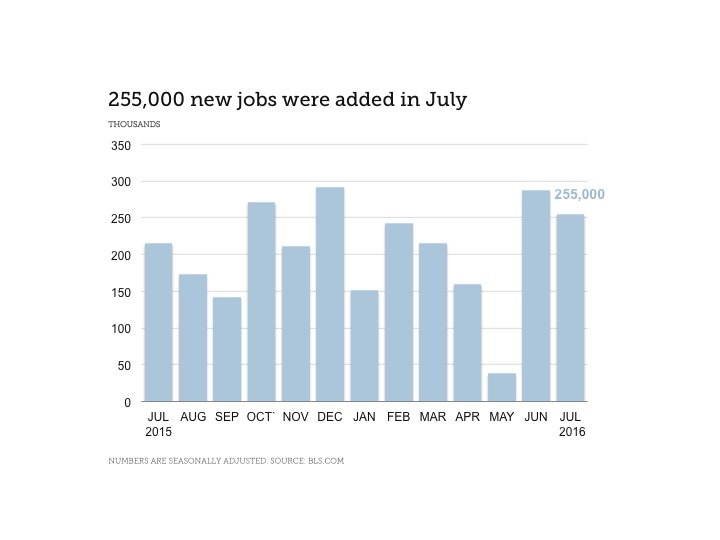 Employment for May was revised from +11,000 to +24,000, and the change for June was revised from +287,000 to +292,000. With these revisions, employment gains in May and June combined were 18,000 more than previously reported. Over the past 3 months, job gains have averaged 190,000 per month.
While the pickup in private-sector employment in June and July suggest May's very weak numbers were indeed an outlier, all eyes are still on the Fed. Today's employment report will be pivotal because it is among the most significant economic data the Federal Reserve reviews before deciding whether to raise interest rates in September.
Let's break down the national numbers from this month's jobs report:
In July, hourly wages rose $0.8 to $25.69 per hour, bringing the year-over-year wage percentage increase to 2.6%. The unemployment rate increased month-over-month and now sits at 4.9%.
Wages:

$25.69 July
$25.61 June

+ 8 cents month-over-month

+2.6% year-over-year
Unemployment:

4.9% July
4.9% June

+0% month-over-month

-0.4% year-over-year
What does this mean for our industries? Our in-depth analysis is below:
In-Depth Look: Our Industries
Let's take a look at how the Accounting and Finance industry is performing. Overall, industry subsectors saw job additions month-over-month. Here are some of the highlights:
Here's how our industries' employment is shaping up:
Financial activities:

Month-over-month change: +18,000
 Year-over-year change: +162,000
Finance and Insurance:

Month-over-month change: +10,000
Year-over-year change: +107,000
Accounting and bookkeeping services:

Month-over-month change: +8,100 jobs
Year-over-year change: +45,300
Legal Services

Month-over-month change: -200
5,000 jobs added since July of last year
Previous Months:

June +300
May +3,800
April -1,500
Right now the unemployment rate for financial services sits at 2.4% up slightly from last month and the legal services industry is at 2.7%, unchanged from last month. Both rates are well below the national average and while that's great news for legal and accounting and finance job seekers, for employers it means hiring top talent is going to be challenging. To get ahead of your competitors and add exceptional professionals to your workforce, make sure you are offering a competitive salary.  Request a free copy of our 2016 Salary Guide – a comprehensive resource for salaries across the industry – to get the latest salary insights that will help you hire the industries top professionals. And be sure to keep an eye out for our 2017 Salary Guide, hitting the market in September!