Finance Industry Jobs Report: April 2015
March brings in 126,000 new jobs, while the unemployment rate remains at a steady 5.5 percent, the U.S. Bureau of Labor Statistics reported.
Nonfarm payroll employment increased by 126,000 in March compared to gains averaging 269,000 over the prior 12 months. U.S. job openings surged in February to a 14-year high, yet employers filled fewer of those jobs than in the previous month. The U.S. talent shortage may be playing a big role in those numbers.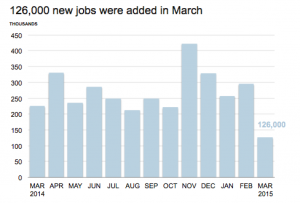 The employment change for February revised down from +295,000 to +264,000, and the change for January revised down from +239,000 to +201,000. Incorporating revisions, employment has increased by an average 197,000 per month over the past 3 months.
Average hourly earnings for all employees increased by 7 cents in March. Hourly earnings are up 2.1 percent over the year. Over the month, average weekly hours edged down 0.1 hour to 34.5 hours.
Last month's biggest employment boost came in professional and business services, home to everything from accounting and scientific research to computer system design. That sector added 40,000 jobs.
Available jobs still on the rise
The number of available jobs rose 3.4 percent in February to 5.1 million, the government says, the most since January 2001. That indicates companies want to add staff, and it suggests that a slowdown in job gains in March could be temporary. Employers that didn't fill their open jobs in March may do so in the following months.
The sharp rise in open jobs "is a reassuring sign that the fundamentals of the labor market have continued to improve," said Jeremy Schwartz, an analyst at Credit Suisse.
Up to speed?
At Parker + Lynch, we're always digging into the most important topics facing the industry and professionals like you.