Finance Industry Jobs Report: January 2016
An employment summary based on the U.S. Bureau of Labor Statistics' (BLS) January 2016 monthly jobs report.
December was a strong month for the U.S. economy. Nonfarm payroll employment rose by 292,000 for the month, much higher than Wall Street's expectation of 200,000. The unemployment rate was unchanged at 5 percent, according to the BLS's Jan. 8 jobs report.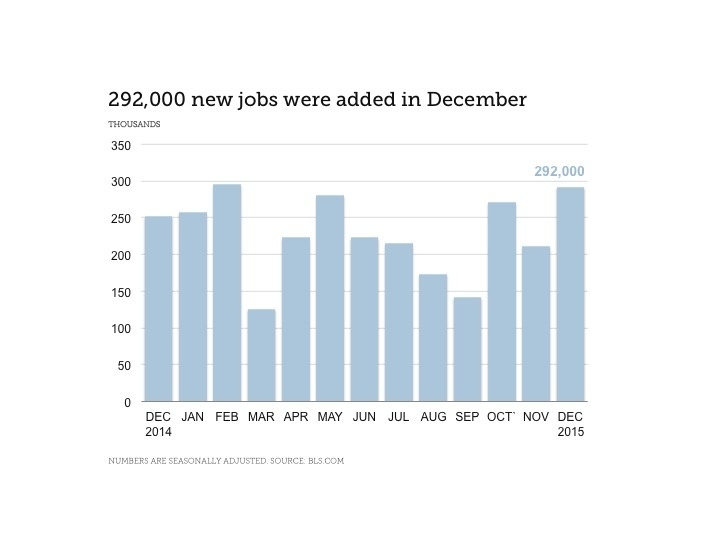 Job gains occurred in several industries, led by professional and business services (+73,000), construction (+45,000), health care (+39,400), and food services and drinking places (+36,900). These industries have led the way in job creation the past year. But more significantly, In 2015, the economy added 2.65 million jobs, the second best year in terms of employment gains since 1999.
Wage levels
Despite these gains, American workers continue to be affected by wage stagnation. In December, average hourly wages remained unchanged at $25.34 an hour, according to BLS. The year-over-year increase was pegged at 2.5 percent, which is below the 3-4 percent range many economists had expected.
The lack of wage increases can be partly attributed to the continued outsourcing of high-paying manufacturing jobs. The manufacturing index — a key metric for the industry — is at its lowest level since 2009. Also, the labor market has an excess pool of part-time and temporary workers, a situation that enables employers to keep wages low.
Other macro trends
In December, the civilian labor force participation rate, at 62.6 percent, remains at historic lows. That means nearly 95 million Americans are currently not employed.
In December, jobless claims increased to its highest level since July 2015, increasing by 20,000 to 287,000 in the week ended Dec. 26, according to the Labor Department. Economists had forecasted 270,000. The number of Americans who filed for unemployment insurance had decreased by 10,000 — to 277,000 — in the week ended Jan. 2. There are about 2.2 million people who are receiving jobless benefits.
In December, the Federal Reserve also hiked interest rates for the first time since June 2006. On Dec. 16, the Federal Reserve increased the target range for the federal funds rate from 0.25 percent to 0.5 percent, up from zero to 0.25 percent. The latest BLS jobs report is fueling speculation that the Feds will increase interest rates more than once in 2016.
What this means for executive job candidates
Executive job seekers may want to consider looking for opportunities in high-growth sectors such as healthcare, professional services, information technology, food and drink, construction, accounting and finance. BLS breaks down employment gains by industry in this chart.
Most of these industries are facing pressure to innovate in order to stay competitive in the marketplace. Thus, managers and executives will need to acquire new skills in order to help their new employers implement disruptive business practices.
What this means for executive headhunters
More than ever, employers have more tools to find top talent. With Baby Boomers heading for retirement, recruiters will need to consistently fill their talent pipelines. To see the latest salary figures, download our free 2016 Salary Guide.