Talent shortage in the accounting and finance industry
Competition for professional talent— especially accounting and finance talent— is fierce.
2015 is shaping up to be one of the most competitive years on record, but a forward thinking recruiting approach can ensure you hire the talent you need.
The Accounting and Finance Employment Landscape
Per the U.S. Bureau of Labor Statistics, at the end of January 2015, the overall U.S. unemployment rate held steady at 5.7%. The unemployment rate for accounting and finance professionals is significantly lower at just over 3.0%. While this is obviously good news for accounting and finance professionals, it has created a shift in the job market—candidates are gaining leverage over employers and being more selective when opportunities arise. This is especially true for experienced, high level professionals, from managers to CAOs and CFOs.
Defining "Talent Shortage" as it Applies to Accounting and Finance
The demand for talent is starting to exceed the supply— especially for experienced talent, as many Baby Boomers approach retirement. Per the American Institute of CPAs, the demand for accounting professionals with master's degrees is skyrocketing, but that further reduces the talent pool, as far more professionals enter the workforce after receiving their bachelor's degrees. As far as finance specifically, Halah Touryalai of Forbes says it best, "For starters, while most of the nation's 300,000+ financial advisors are over 50 years old, less than 5% of them are under 30. What's more, every year for the next 10 years, 12,000 to 16,000 financial advisors are going to retire. The rate of replacement simply isn't keeping pace."
The Cost of Acquiring New Talent
As if the lack of accounting and finance professionals is not enough of a challenge, there is also turnover—something every company experiences, from making the wrong hire that quickly exits to planned retirements. The chart below shows just how costly turnover can be for senior level positions.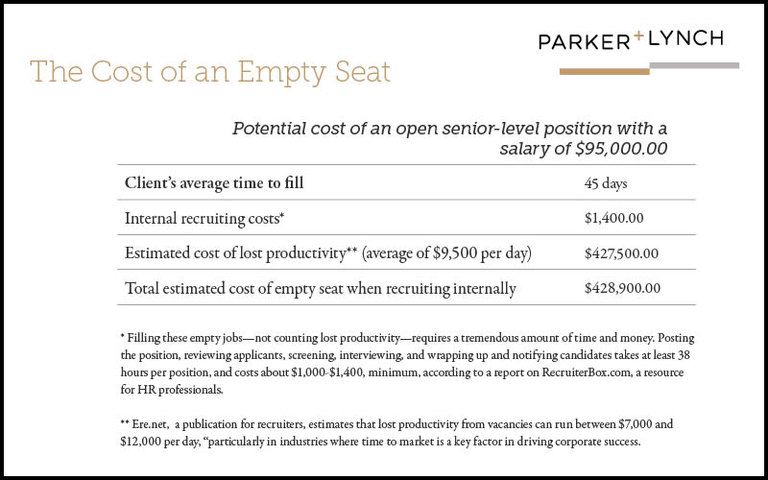 When you consider the shortage in accounting and finance and the cost of acquiring new talent, you can see why implementing the right recruiting strategy is a must.
At Parker + Lynch, we have a vast network of top-level talent, and we work diligently to align both the skills and personality of that talent with your company. Not to mention, we also act as a partner that helps you retain employees and reduce future recruiting costs.
Is your firm prepared?
Additional insight can be found in our white paper, "Rising Above the Great US Talent Shortage."