Finance Industry Jobs Report: June 2015
May brought on 280,000 new jobs, but the unemployment rate ticked up a notch to 5.5 percent, the U.S. Bureau of Labor Statistics reported.
The professional and business services, health care, and leisure and hospitality all contributed to the economy's job growth last month. While each month is seeing job gains, the unemployment rate and number of unemployed persons (8.7 million) has remained essentially unchanged since February.
Professional and business services added 63,000 jobs in May and a total of 671,000 jobs over the year. In May, employment increased in computer systems design and related services (+10,000), management and technical consulting services (+7,000), and in architectural and engineering services (+5,000). Employment with temporary help services continued to rise and brought an additional 20,000 jobs to the economy last month.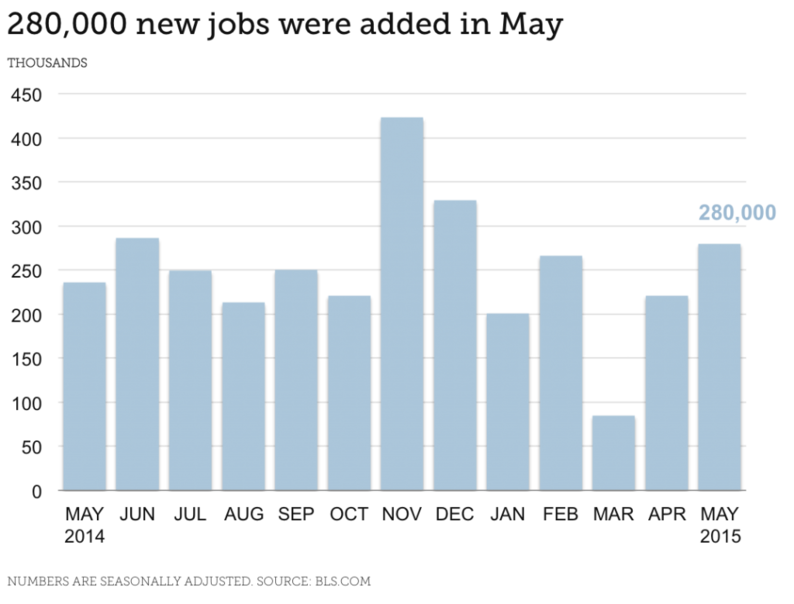 Average hourly workweeks holding steady. Wages inching up.
The average hourly workweek for private non farm employees is at 34.5 hours for the month of May.
Hourly earnings are rising. The average earnings for private non farm employees rose by 8 cents and are now reported at $24.96 an hour. Over this past year average hourly earning rose by 2.3 percent.
The number of long-term unemployed is gradually declining, but still historically high
Despite new job gains each month, there are some troubling statistics surrounding the long-term unemployed (those who have been looking for work for 27 weeks or longer). The number of long-term unemployed reached historically high levels following the Great Recession of 2007–2009. It reached a record high in the second quarter of 2010 at 6.7 million—or 45.1 percent of the unemployed.
As the economy recovers, that number has gradually declined, though it remains high by historical standards. The number of long-term unemployed in May was 2.5 million and currently accounts for 28.6 percent of the unemployed.
The Great Recession also brought on a historic increase in extreme long-term unemployment—people who were looking for work for 99 weeks or more. In 2014, 11.4 percent of all unemployed people had been looking for work for 99 weeks or longer.
Unfortunately, as the duration of unemployment increases, the likelihood of becoming employed in the following month declines. In 2014, about 35 percent of people who had been out of work less than 5 weeks found work in the next month; about 11 percent of people who had been out of work for 1 year or longer became employed in the following month.
Job seekers should not discourage, however. Companies are hiring (there were 5.0 million job openings on the last business day of March) and as more and more jobs are added each month opportunities will present themselves for those who know how to take advantage of them. The long-term unemployed should consider soliciting the aid of temporary help services to stay active in the labor force and to increase their exposure to more job opportunities.
Are you taking advantage of the increased number of job opportunities?
As each month brings additional jobs to the economy, especially in the private professional and business services sector, professionals in these sectors will begin to see more job opportunities and will have more options at their disposal. Make sure you are taking advantage of the pending talent shortage, both as a professional and as an employer.
At Parker + Lynch, we're always digging into the most important topics facing the industry and professionals like you.